Profile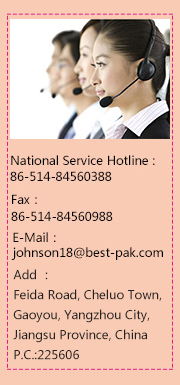 Bestpak – A professional manufacturer with great influence in gift packaging accessory industry offers an attractive array of innovative packaging solutions:
1. All kinds of ribbons and bows: satin,grosgrain,sheer,taffeta,metallic and so on.
Meeting Oeko-tex standard 100, Azo free and REACH SVHC free, meeting American and European standard of environment protection.
2. Heat-cut edge ribbon, over-locked edge ribbon, embossed edge satin ribbon, non-woven ribbon.
3. All kinds of braided elastics and cords, twisted cords and tassels.
4. All kinds of gift pouches, shopping bags and cosmetic bags.
5. Rayon raffia, paper raffia, paper twisted cords.
6. Poly pull bows, curly bows, star bows, rosettes and fancy gift bows.
Bestpak now has four factories and two offices in China, with a total of more than 1,000 workers , 88,000 square meters of covering areas and 70,000 square meters of factory buildings. The total investment amounted to US$23 million. One factory is located in ShenZhen, another three factories are located in YangZhou, JiangSu province. Bestpak has passed the international quality management system attestation and obtained the certificate of ISO9001,ISO14001,SA8000,BSCI,Oeko-Tex Standard 100,Sedex,BRC and FSC. We produce same products in four factories, using the following machines and equipment:
1000 imported high-speed weaving looms and 11 continuous dyeing lines
15 automatic silk-screen, foil and heat-transfer printing machines
20 heat-cutting machines & 40 punching and barbing machines
3000 braiding and twist cord machines & 70 high-speed braiding machines
300 various sewing machines
5 injection molding machines
3 Heidelberg printing machines & 3 sets automatic paper bag & paper box gluing machines
Our daily production capacities are as follows:
1) 2,000,000 yds of ribbon (196 colors of polyester satin and grosgrain ribbbons in usual stock)
2) 500,000 yds of elastics & cords (regular met. Elastics in stock )
3) 250,000 pcs of gift pouches (50 colors of organza and satin fabric in stock)
4) 250,000 pcs of tassels
5) 500,000 pcs of ribbon bows
Bestpak has now been recognized as one of the larger manufacturer of metallic elastics and cords as well as one of the main manufacturer of ribbons and gift pouches in China.
For ribbons, We are using the world's better dye stuff "Clariant" and also have advanced color fastness tester for washing and dry/wet rubbing, the color fastness of our dyed ribbons can reach up to level 4 and above.
For gift pouches, Our usual stocks of 50 colors of organza sheer and satin fabric guarantee very quick deliveries, and in-factory silk-screen printing department enables us to make very quick sampling and production. Also our braiding department's production of decorative cords and tassels provides more choices of drawstrings.
Bestpak, with the goal of "best quality, best price and best delivery, and also the best service" strive to be the most influential enterprise in the gift packaging accessory industry. Please contact us today at the following e-mail addresses. Our 40 English speaking & 5 Japanese speaking customer service staff will serve you immediately. E-mail: johnson18@best-pak.com or johnson@best-pak.com.
Since 2011, we set up one separate company called Yangzhou Masterpack Color Printing Ltd., having invested Heidelberg printing machines,automatic paper bag & paper box gluing machines and related equipments. Masterpack has been specialized in producing high quality paper bags, hang tags, paper boxes, leaflets, product brochures, and all kinds of business and packaging printing products. Please visit www.masterpack.cn for more information, or send inquiries to Johnson@masterpack.cn.